Mary Jo Buttafuoco Has A New Book Nailing Ex-Husband Joey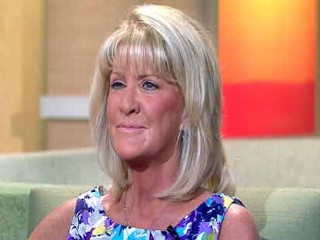 It might have taken Mary Jo Buttafuoco 17 years but she finally has realized what all of us had already known. Her ex-husband Joey is a "sociopath and a liar."
Buttafuoco said so exclusively on ABC's "Good Morning America," Monday while promoting her new book "Getting It Through My Thick Skull." The title both refers to the fact that she survived a gun shot to the face and the realization that she was married to the wrong man.
"I stood steadfast next to this man, ferociously defending him for years after the infamous shooting by Amy Fisher turned our last name into a worldwide punch line," Mary Jo writes in the book. "This same man is also the walking, talking dictionary definition of a clinical sociopath."
You all remember the incredible soap opera that began in May 1992. Mary Jo answered her door and saw a young woman named Amy Fisher standing there. Fisher had been sleeping with Mary Jo's husband Joey for some time and decided she wanted him all to herself. So she shot Mary Jo, who then survived. Amy served seven years in prison and Joey got four months for statutory rape. Oh, did we forget to mention that Fisher was underage at the time?
Mary Jo stayed with Joey for another 11 years after the event. In the book she credits that mostly to her Catholic upbringing and children. She also ended up at Betty Ford Center Rehab during that time.
However, now, after realizing that she believes Joey was clinically sick, she says her life has changed for the better.